Guest blogger Joanne Corrigan tells how olders are sharing rich history lessons in an intergenerational setting. Many thanks to Joanne for this inspirational way to use Positive Aging picture books!
When I discovered Lindsey McDivitt's website, I was so excited! I knew it would be a perfect resource for my job. Lindsey was grateful to learn that it was helpful and asked that I share my work with her readers.
My name is Joanne Corrigan and I am an Intergenerational Coordinator. I work at a nursing home just outside New York City, called Andrus on Hudson.
Within the nursing home are two schools — Little Leaf, a forest preschool that celebrates nature and time outdoors, and Hudson Lab School a private elementary school using Project Based Learning and Design Thinking to guide their curriculum.
Because this triad is dedicated to the intergenerational experience, they employed me as the liaison to the children and Grands (that's how we refer to our residents) during the school year.
I already loved books like Miss Rumphius, by Barbara Cooney, that feature older adults as strong lead characters, but I was thrilled to have so many new options for our Intergenerational Library time.
On our first IG Library day, I featured stories about Identity and Nature. That's when the most wonderful thing happened! A book about brothers led to a discussion with the children and Grands about their own families.
As the groups paired up to read together, I continued listening to one of the Grands talk about his family. He shared many stories, but the one that really resonated was about his grandparents being on the Titanic.
His grandmother was put into a lifeboat and saved, while his grandfather went down with the ship. It's a tragic story we all know well from movies and such, but this was an incredible personal link to history for the students.
It was on that day that I realized—we go to school in a Historical Society!
The next week the same Grand returned to the group with a book about the Titanic, and shared a picture of his grandfather standing on the deck of the famous ship before they embarked. The students were enthralled.
The teachers and I immediately decided to help the students begin work on a century long timeline from the sinking of the Titanic to present day. They will fill it with significant events, inventions, culture, etc. from history then infuse it with significant events from our own Grand population.
In November, I tapped into the fact that we also go to school with Veterans. I invited one of our Grands that served in the military to visit the upper elementary classroom and share what it means to be a Vet. He brought pictures of himself in the Army and he taught us how to salute and march. Now when the students see him in the building they stand tall and salute him. He smiles ear to ear.
We go to school among a corps of engineers, and men and women who kept NYC running. We interviewed one Grand engineer who oversaw maintenance of many highways and the George Washington Bridge. Another who was a toll taker on that bridge.
We go to school in an artist colony, a community of world travelers, and one of educators and musicians. We go to school with a choir of nuns. We are surrounded by seniors who are strong lead characters in their own stories!
How better to fight the stereotypes of old age than to get to know a Grand?
The children will tell you that they love the stories the Grands share from their long and interesting lives. The teachers and I are excited to find opportunities for making history lessons richer with stories from a Grand's personal experience.
I will read books from Lindsey's list, including her own.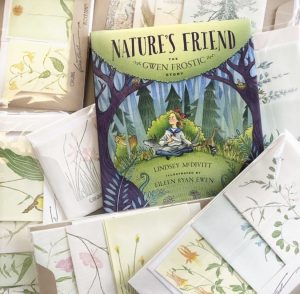 In fact, I recently shared Bottle Houses, The Creative World of Grandma Prisbey by Melissa Etheridge Slaymaker (LOVE!), but nothing can come close to a Grandfriend sharing their own story.
If you aren't lucky enough to go to school in a nursing home, find one near you and listen to people's stories. They've all got them. And they love to have an audience and to be reminded of their value in life.
Get to know a Grand. It's not charity. It's symbiotic. It's mutually beneficial and I guarantee, you won't regret it.
Photos used with permission.