Two picture books celebrating late life. Two picture books pushing ageism out of the shadows in kidlit. Two picture books I wish I'd written!
Hats off to
The Truth about Grandparents by Elina Ellis (Little, Brown & Co.; September 2019).
This picture book was originally published in Britain as The Truth about Old People.
AND—also Grandparents by Chema Heras; illustrated by Rosa Osuna (Greystone Kids). These are two important books, definitely about more than grandparents and grandkids. Here we have picture books that tackle myths and age stereotypes with humor!
Both books begin with the visible physical changes to our bodies that come with age. This makes it relatively easy to open conversations with kids around our society's misconceptions about just what olders can do.
Grandparents is a sly delight first published in Spanish and translated into English by Elisa Amado. (It's available May 5, 2020.)We see grandfather excited about a dance in town, but grandmother hedges, responding with multiple reasons she is no longer attractive enough to attend dances.
When told she is "as pretty as the sun," she replies, "That's not true. I am as ugly as a chicken with no feathers." Grandfather pushes with ever more imaginative compliments and gradually softens her resistance. Their flirty word play is romantic and amusing.
Rosa Osuna's illustrations beautifully convey their longtime love. She inserted tiny sketches that them in their younger days and skillfully conveys the joy found in mundane moments of togetherness. Both the author and illustrator of Grandparents live in Spain and the Spanish edition called Abuelos, won the prestigious Premi Llibreter de Narrativa Album Il-lustrat in 2003.
Editor Patricia Aldana's imprint with Greystone Kids brings books from around the world to English-speakers everywhere. She discovered this lovely book in El Salvador at a Saturday morning library at the San Jacinto market when a young girl declared it her favorite book. (Here's the back story.) I love that the publisher tags the book with a curriculum connection to healthy behaviors.
In The Truth about Grandparents Ukrainian/British Elina Ellis uses her art to directly contradict her text, thus challenging common myths about older adults.
For example, the text states, "I've been hearing lots of strange things about old people. Some people say they are NOT MUCH FUN. They say grandparents are SLOW…and CLUMSY…"
In reality the grandma and grandpa are having far too much fun. Yoga and dancing are shown, and a little romance. Yay! Smooch.
And rollercoasters, skateboards and roller-skates!
But I must admit that the latter two make me a tad uncomfortable. There are definitely speedy older adults, and no doubt there are a few grandmas and grandpas roller-skating and skateboarding, it seems those may not be the best examples. Am I wrong?
I REALLY like that olders' alleged fear of technology is debunked here. Are there some older adults who are not tech savvy? Of course. But painting all with the same brush is stereotyping.
Parents, grandparents, teachers and librarians can certainly use these books to jump start some terrific discussions about the vast diversity kids observe in older adults. Think about asking children:
Do you think all Grandmas and Grandpas are the same?
What kind of fun do you have with your grandma and grandpa?
How are they different from other kids' grandparents?
Do they have some special skills they might teach you?
Do you think they enjoy being with each other?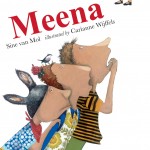 —Check out the thought provoking picture book Meena for another title highlighting assumptions about aging. Read more.
—Please think about supporting your independent bookstore in this challenging economic time. Feel free to use this Indie Bound link to find one near you.
Lastly, I'm so pleased to share that my own picture book Nature's Friend: The Gwen Frostic Story (Sleeping Bear Press.)has been nominated for an award from the Academy for Gerontology in Higher Education. Every two years AGHE gives an award for "the positive portrayal of older adults in books for kids."
When making selections for their award AGHE considers:
Portrayal of meaningful aging
Portrayal of positive intergenerational relations
Diversity e.g, gender, race, ethnicity, disability
Appeal
Realism of story line
By the way, Gwen Frostic's early environmental efforts make Nature's Friend a great title to use for Earth Day 2020.
Stay well everyone! Warm wishes.