This list is a resource meant to help us all to nip ageism in the bud–by exposing kids to more positive and accurate images of aging.
We believe teachers, librarians, parents and grandparents can form more positive attitudes to growing older by reading and discussing these books* with kids.
*We strive to ensure this list does not include books containing negative age stereotypes. (Note: many"intergenerational book lists" do include age stereotypes.)
This page is a work in progress. Suggestions welcomed. Please feel free to contact me.
Book reviews on the A is for Aging blog page often include ideas for talking with kids about aging and ageism.
On this page:
Alphabetized list of Positive Aging picture books with links to reviews.
Diverse picture book list–inclusive of many cultures and without negative age stereotypes (coming soon)
Age picture books listed by theme (coming soon)
Notes: Sandra L. McGuire, Ed.D has studied the importance of aging education for many years and published numerous articles on the topic. Beginning with our collaboration in 2015 her booklist "Growing Up and Growing Older: Counteracting Ageism & Promoting Positive Aging" can be found here. They are gradually being added to the book list on this website.
Read more regarding Educators on using picture books to change attitudes to aging.
Alphabetized list of Age Positive picture books:
Click on a book's image or title to find the closest library with that title and also options for purchase. (Some may be out of print. )
Abuela by Arthur Dorros; illus. by Elisa Kleven
Grandparents, families, fantasy, imagination, multicultural – Spanish/English
A little girl and her grandmother fly together over New York City. (Also in a Spanish edition)
Amazing Grace by Mary Hoffman, illus. by Caroline Binch
Families, grandparents, school, books & stories, dramatization, gender roles, multicultural.
Grace's grandmother helps Grace, a girl who loves stories, realize that with effort anything can be achieved.
A Sick Day for Amos McGee by Philip Stead; illus. by Erin Stead.
Read A is for Aging book review.
Dedication, jobs – zookeeper, animals, zoos, friends & friendship, Caldecott Medal for illustrations.
Aunt Flossie's Hats (& Crab Cakes Later) by Elizabeth Fitzgerald Howard, illustrated by James Ransome.
Families, family stories, hats.
When they visit their favorite relative, Sara and Susan enjoy her collection of hats and  stories and share crab cakes.
Betsy's Day at the Game by Greg Bancroft; illus. by Katherine Blackmore. Baseball, baseball scoring, grandfather & granddaughter, multi-generational.
Read A is for Aging book review.
Big Moon Tortilla
by Joy Cowley and Dyanne Strongbow
Grandparents, multicultural (Native Am.), bad days
After Marta has had a bad day, her grandmother shares some comforting words of advice.
 Out of print
Bon Appetit!
The Delicious Life of Julia Child
by Jessie Hartland.
Non-fiction picture book bio of chef Julia Child.
A long productive and happy life. Late-life romance and career.
Bottle Houses: The Creative World of Grandma Prisbrey by Melissa Eskridge Slaymaker; illus. by Julie Paschkis
Creative life, imagination and perseverance, love of color. Real life Grandma P. builds her own creative home from bottles and other found materials. Sadly out of print, but still available.
READ the A is for Aging book review.
Butterfly Kisses for Grandma and Grandpa
by Alayne Kay Christian, illus. by Joni Stringfield.
Long distance grandparents, story and ideas for kids and grandparents.
A Couple of Boys Have the Best Week Ever by Marla Frazee
Grandparents, summer activities, friends & friendship, humor
James and Eamon stay with Eamon's grandparents while in Nature Camp for the best summer ever!
The Doorbell Rang by Pat Hutchins
Grandparents, families, sharing, math concepts, baking – cookies.
Out of Print.
Grandma saves the day just when it seems that there aren't enough cookies for Victoria and Sam to share as unexpected guests drop in.
Crouching Tiger by Ying Chang Compestine, illustrated by Yan Nascimbene
Grandfather and grandson, developing relationship, multi-cultural (China, Am.) family heritage, practice and perseverance. Grandpa visits from China and imparts his skills in tai chi to his young grandson and also pride in his Chinese-­American heritage.     Read the A is for Aging book review.
Dream: a Tale of Wonder, Wisdom, and Wishes by Susan V. Bosak; illus. by multiple award winning artists
Strengths and challenges of  life stages, hopes and dreams for the future no matter what age; beautifully illustrated, includes quotes and inspiration. Read the A is for Aging book review.
Fancy Nancy: Bonjour Butterfly by Jane O'Connor, illustrated by Robin Preiss Glasser
Read A is for Aging book review
Family, 50th wedding anniversary
Full, Full, Full of Love
by Trish Cooke, illustrated by Paul Howard
Multi-cultural (Af. Am.) but sadly out of print
Georgia Rises: A Day in the Life of Georgia O'Keefe by Kathryn Lasky; illus. by Ora Eitan.
Read A is for Aging Book Review.
Grandfather Counts by Andrea Cheng; illus. by Ange Zheng. Multi-cultural (bi-racial family: American, Chinese), language differences.
Read A is for Aging book review
Grandfather and I by Helen E. Buckley, illustrated by Jan Ormerod
Grandparents, everyday activities, families, multicultural (African Americans).
In the middle of a busy family, only grandfather has lots of time to walk and look with his grandson.
Grandfather's Wrinkles by Kathryn England; illus. by Richard McFarland. Flashlight Press, 2007. Read the A is for Aging book review.
Grandmama's Pride by Becky Birtha; illus. by Colin Bootman
Multi-cultural (Af.Am.) strong older role model, activism, human rights, racism, segregation
Young African-American sisters visit their grandmother in 1950's southern U.S. and encounter segregation. Along with many others Grandmama refuses to ride public buses in protest and they manage to effect change in the laws. Read the A is for Aging book review.
Gus and Me by Keith Richards; illus. by Theodora Richards. True tale by Rolling Stones musician Keith Richards about his relationship with his grandfather & introduction to music.
The Hello Goodbye Window by Norton Juster, illustrated by Chris Raschka
Read A is for Aging book review
Grandparents, family, everyday adventures, multi-cultural (bi-racial family).
Henri's Scissors by Jeanette Winter
Non-fiction bio of artist Henri Matisse; art, creativity, physical challenges, happiness in late life. Read A is for Aging book review
Here Comes Grandma by Janet Lord, illus. by Julie Paschkis.
Long distance grandma visits.
Read A is for Aging book review.
The Honeybee Man by Lela Nargi & Krysten Brooker
Cities, science, bees & beekeeping
Fred is an urban beekeeper who shares the fruits of his work with neighbors. Information about beekeeping and bees is included.
Hot, Hot, Roti for Dada-ji by F. Zia, F., illustrated by Keri Min
Grandparents, families, food, multi-cultural – India.
Aneel's active grandparents bring stories, special foods, and fun with them from India.
I Call My Grandpa Papa and I Call My Grandma Nana by Ashley Wolff
Grandparents, families, schools, multicultural.
Children and their teacher share the names for their lively and loved grandparents in two books. Names for grandparents from different countries are noted on end papers.
I Know a Lady by Charlotte Zolotow, illustrated by James Stevenson
Communities, neighbors, friendliness, everyday activities
I Love Saturdays y Domingos
by Alma Flor Ada, illustrated by Elivia Savadier
Grandparents, families, multicultural – Spanish-speaking
A young girl enjoys the similarities and the differences between her English-speaking and Spanish-speaking grandparents.
It Jes' Happened: when Bill Traylor started to draw  By Don Tate; illus. by R. Gregory Christie
Late life creativity, using life experiences, emancipated slave, self-taught artist. Picture book bio of the acclaimed American folk artist who only begins drawing at age 85.                                           Read the A is for Aging book review.
Jingle Dancer
by Cynthia Leitich Smith; illustrated by Cornelius Van Wright and Ying-Hwa Hu
Contemporary Native American family, inter-generational sharing of traditions
Young girl represents four loving, older family members in the traditional Jingle Dance.
Kiki's Hats
by Warren Hanson
Joy of giving, creating a better world, leaving a legacy
Kiki, an older woman, knits thousands of hats to give away and urges others to share them also.
Last Stop on Market Street by Matt de la Peῆa and Christian Robinson
Multi-cultural (Af. Am.), grandson and grandma, city living, jealousy, thankfulness, volunteerism
Lillian's Right to Vote by Jonah Winter and Shane W. Evans. Schwartz and Wade, 2015. About the Voting Rights Act of 1965. Based on a real woman. Read the A is for Aging book review.
Lots of Grandparents by Shelly Rotner & Sheila Kelly
Picture book/nonfiction
Grandparents, families, everyday activities, photographs
Photographs of grandparents and their grandchildren show the joy as they visit, play, and read together.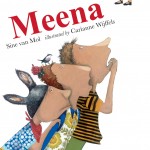 Meena  by Sine Van Mol; illustrated by Carianne Wijffels
Grandmother, neighbor, aging, appearances, fears and misunderstandings. Meena's young neighbors believe she is a witch until their many misunderstandings are cleared up. Read A is for Aging book review
Miss Moore Thought Otherwise: How Anne Carroll Moore Created Libraries for Children By Jan Pinborough; illus. by Debby Atwell (Houghton Mifflin, 2013; ages 6-9)
(Books, history, work, retirement)Picture book bio shows us a strong single woman busting both gender and age stereotypes. Read the A is for Aging book review.
Miss Rumphius by Barbara Cooney
Growing older, a lifetime, legacies, flowers, planting
When still a little girl, Alice Rumphius decided that when she grew up she would visit faraway places, live by the sea and do something to make the world more beautiful–per her grandfather's advice. Read the A is for Aging book review.
Mr. Frank by Irene Luxbacher. Groundwood Books, 2014. Read the A is for Aging book review.
Mr. George Baker by Amy Hest; illus. by Jon J. Muth
Intergenerational friends, multi-cultural (Af. Am.), long life and marriage of many decades, literacy and continued learning.
At 100 years old, Mr. Baker is learning to read and rides the school bus with his very young friend Harry. Read A is for Aging Review.
Mrs. Katz & Tush by Patricia Polacco
Friends & friendship, community, caring for others, cats & kittens, multi-cultural (African-Am. & Jewish).
A lifelong and caring friendship between young Larnel and his neighbor Mrs. Katz.
See many more books by Patricia Polacco featuring Positive Aging and intergenerational relationships–such as  Chicken Sunday  and The Bee Tree. Read more about author/illustrator Patricia Polacco in this A is for Aging book review.
My Abuelita
by Tony Johnston, illustrated by Yuyi Morales
A young boy lives with his grandmother who is preparing for her mysterious job.
My Teacher by James Ransome
Skills from age and experience, urban school, retirement, making a difference, dreams of the future. Read the A is for Aging Review.
Mr. Cornell's Dream Boxes    by Jeanette Winter. Beach Lane Books, 2014. Read the A is for Aging book review.
Art and creativity. Read about more Positive Aging picture books by the author.
Nana in the City by Lauren Castillo
Urban grandmother, cities–positives and negatives. Young boy visits Nana's home in the big city and is initially frightened. Read A is for Aging book review.
 Nelson Mandela by Kadir Nelson.  Bio, apartheid, multi-cultural (South Africa), late life work, respect for elders, wisdom.
Read the A is for Aging book review.
Nelson Mandela: Long Walk to Freedom by Chris Van Wyk; Paddy Bouma. Official picture book version of Nelson Mandela's autobiography. Activism, apartheid, late life work, multi-cultural (South Africa), respect for elders, wisdom.
Read A is for Aging book review.
North Woods Girl by Aimee Bissonette; illus. by Claudia McGehee. Read A is for Aging book review.
On a Beam of Light: A Story of Albert Einstein by Jennifer Berne; illus. by Vladimir Radunsky.
NF picture book bio. Read A is for Aging book review.
Paris Hop! by Margie Blumberg; illus. by Renee Andriani
Travel adventures–grandma and grand-daughter in Paris.      Read A is for Aging book review.
Rosie Revere, Engineer by Andrea Beaty, Illustrated by David Roberts
Older role model, extended family, Rosie the Riveter WW II history, perseverance, creativity. Read A is for Aging Book Review 
Young Rosie faces setbacks in her dream to be an engineer, but her Great-Great Aunt Rose encourages her creativity and persistence.
Silly Frilly Grandma Tillie by Laurie Jacobs; illus. by Anne Jewett.
Gelett Burgess award winner for multi-generational family. Creativity highlighted. Read A is for Aging book review.
Sitti's Secrets by Naomi Shibab Nye; illus. by Nancy Carpenter.
Multi-cultural (Am., Palestinian), language differences. Read A is for Aging book review
Song and Dance Man by Karen Ackerman (Knopf, 0394893301)
Picture book
Grandparents, families, Caldecott Medalist
Three children spend the day in their grandfather's attic, enjoying his tap dancing and memories of vaudeville in this Caldecott Medal winning book. Out of print.
Take Me Out to the Ballgame by Maryann Kovalski (Fitzhenry and Whiteside;
Grandparents, baseball, family outings
In this familiar sing-along, Grandma has as much fun as her sports-loving granddaughters at a big league baseball stadium.
The Fantastic Jungles of Henri Rousseau by Michelle Markel; illus. by Amanda Hall (Eerdmans Books for Young Readers, 2012)
Arts, creativity, history, perseverance. Self-taught artist Rousseau begins painting late in life and perseveres despite poverty & criticism. Read the A is for Aging book review.
The Matchbox Diary by Paul Fleischman; illus. by Bagram Ibatoulline
Great grandfather, life experiences, family stories, history, immigration, work. A kindergartner meets her great-grandfather and gets to know him and his past via trinkets in matchboxes he has saved over his lifetime.
Read the A is for Aging book review
The Remarkable Story of George Moses Horton by Don Tate. (Peach Tree; 2015)
(History, multi-cultural, perseverance, slavery, writing.)
George Moses Horton taught himself to read while a slave and became the first African American to be published in the South.
Read the A is for Aging book review soon.
The Watcher: Jane Goodall's Life with the Chimps by Jeanette Winters
NF picture book bio. Older role model, activism, environment.
Read A is for Aging book review.
Thomas Jefferson: Life, Liberty and the Pursuit of Everything by Maira Kalman. Nancy Paulsen Books, 2014. Non-fiction picture book bio. Read the A is for Aging book review.
Tortillas and Lullabies/Tortillas y Cancioncitas by Lynn Reiser
Families, traditions – intergenerational, family stories, bilingual – Spanish/English
Traditions are passed on through four generations in this celebration of food, family, and affection.
Updated List ends here—
Books for Children Ages 6-9
Click on a book's image or title to find the closest library with that title and options for purchase.
Fishing with Dad by Michael Rosen (Artisan; 1579652867)
Picture book (out of print)
Intergenerational family, stories, memoirs, outings – fishing, photo-essay
A young man relives the pleasure of his childhood experiences while on a fishing trip with his son and father.
Grandpa's Face by Eloise Greenfield, illustrated by Floyd Cooper
Families, grandparents, perception, fears.
Tamika sees her beloved grandfather making a mean face while he rehearses for one of his plays and becomes afraid that someday he will make that face at her.
A River of Words by Jen Bryant, illustrated by Melissa Sweet (Eerdmans; 0802853021)
Biography/picture book
Poets & poetry, biography, vocations, persistence
Though he practiced medicine, William Carlos Williams became a recognized poet continuing well into his sixties.
Thanks to SEA Change (Societal Education About Aging for Change) for permission to begin with their original list. For info contact Marsha Weiner at contentmaven2009@gmail.com. Original list has been changed by Lindsey McDivitt.